Furry Four-legged Family Members
Need Baths Too!
Dogs have been faithful companions for centuries. As beloved members of our families, we bestow on them an outpouring of affection, quality food, clever toys, and engaging outdoor activities.
 Meet Winnie for a puppy design tile consultation
One of the biggest challenges to caring for our loving dogs comes in form of bathing them. Oftentimes, we become accustomed to the smell of our dogs. But just as often, our dogs' explorations and outings require them to be bathed regularly. Whether it is a daily run, a trip to the dog park, a swim in the creek at low or high tide, an excursion to the beach, or chasing a squirrel through the brush, our beloved companions bring home all manners of debris.
Regular trips to the groomers may be cost and time prohibitive. Attempts at bathing your dog with a hose in the yard or in your bathroom may be equally challenging.
Creating a pet-washing station specifically for your dog or any other pet in your home may be your best alternative. Much like designing a bathroom, you will have similar concerns for your pet-washing station.
Melcer Tile is a pet-friendly business. Bring your pet to help make your pet-washing station design decisions.
The design of your pet washing station is similar to adding a bath or shower to your home. Your design will include considering location, size, accessibility, practical pet-washing requirements, and style.
Location
Do you have an outdoor shower that you would want to add a pet-washing station to? What about in a mudroom, laundry room, or the basement? Regardless of location, access to your plumbing is paramount. 
Size
Size means several things. Is your companion an adorable Dachshund or Chihuahua? Or your faithful Labrador retriever hunting buddy? Or the scruffy lovable breed unidentifiable rescue from a local shelter? Or perhaps you also have a lovely cat, or any other exotic pet? You want to make sure that your pet has plenty of room, whether in a small tub or a large shower. 
Accessibility
Keep in mind your pet's health and age.
Will your pet be able to step into the shower or hop up to the tub? Will you need to provide a ramp or stairs for them, particularly as they get older. What about you? Stooping may not be in your best interest either.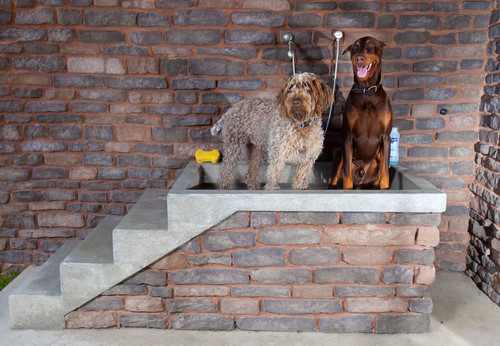 Practical Requirements
Other practical considerations for your pet washing station often include faucet height, hand-held shower heads, appropriate drainage height, baskets to catch excess fur, rings or tether clips, non-slip rugs, dryers, and storage.
Style
Your pet washing station can be as beautiful and functional as your luxurious master bath or custom-designed kitchen. Many pet owners use this opportunity to continue to incorporate custom tile in their homes.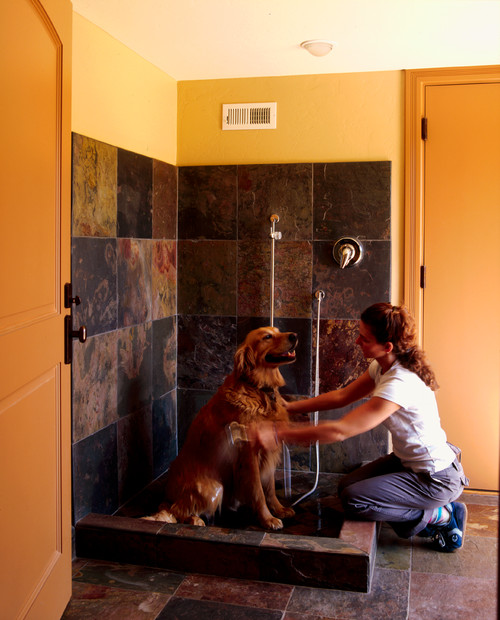 Whether selecting large format tiles, or designing and intricate mosaic, the custom tiles allow you to create personal style and practicality for your pet washing station.
Contact the experts at Melcer Tile to make the ideal tile selections for your pet washing station.